A guide to choosing the right Skip size for your needs: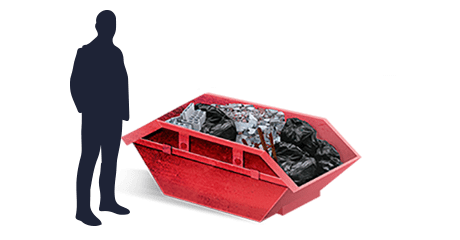 Super Mini
4 cubic yards | 3.05m3
Equivalent to 35 black bin bags
Also known as:
Small builders skip
Mini skip
Recommended for:
The smallest of our skip sizes, works well for small volume renovation projects as well as removing waste from gardens, lofts and basements. Ideal for small building works where space is limited.
Dimensions:
3.05m3
0.9 (H) 1.8 (L) 1.3 (W)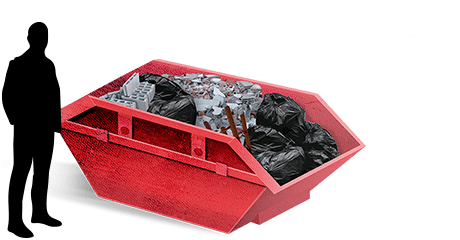 Mini
6 cubic yards|4.6 m3
Equivalent to 50 black bags
Also known as these skip sizes:
Small builders skip
Builders skip
Recommended for:
General home or office renovations, as well as large volumes of rubbish from lofts, basements, gardens and garages.
Dimensions:
4.6 m3
1.2 (H) 2.6 (L) 1.5 (W)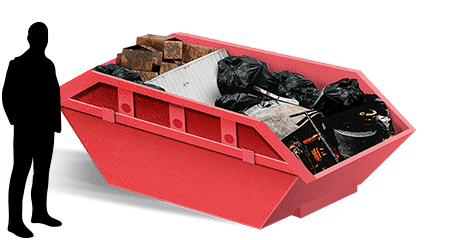 8cubic yards|6.1 m3
Equivalent to 70 black bags
Also known as this skip size:
Recommended for:
Commonly used for large home or commercial clearances as well as bathroom or kitchen renovation projects.
Dimensions:
6.1 m3
1.2 (H) 3.7 (L) 1.7(H)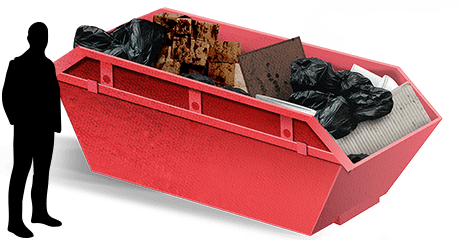 Maxi
12 cubic yards|9.2 m3
Equivalent to 100 black bags
Also known as this skip size:
Recommended for:
The largest of our skip sizes, ideal for full home, garden or commercial clearances and shop refits. NOT recommended for heavy building/ construction wastes or soils.
Dimensions:
9.2 m3
1.7 (H) 3.7 (L) 1.8 (W)
Choose your skip
Local Skip Hire to Suit Every Need
At Skoup, we want to make it as easy as possible for you to get rid of the rubbish you need in whatever skip size you need. Our local skip hire service is available at a large number of locations throughout the UK and is dedicated to making sure that you have the skip you need, when you need it, at an affordable price. When you are done with your skip, we pick it up at a time that is convenient for you.
Skips are generally 'sized' by their internal volume which is measured as cubic yards or shortened to yards. A single cubic yard is 3ft high x 3ft wide x 3ft deep (3ft = 91cm) and is comparable in size to two large appliances or ten bin bags. Our Skips range in size from four to 12 cubic yards which is generally enough to cover everything from small home renovations to shop refits.
Within the range of skips our local specialists can help you with, we have four prominent skip sizes. Those are known as our Super Mini, Mini, Midi, and Maxi skips. All of our skips are able to hold up to 2 tonnes of weight, making them fantastic tools to have whenever you have waste you need to get rid of.
Reliable and Efficient Local Skip Hire
There are a many benefits to hiring a skip from Skoup. Our local skip hire service is designed to be as efficient as possible. We want to help you save money on your waste collection, and that's why we ensure that our skips always remain affordable.
As well as providing a reliable service, that will pick up and drop off a skip at a time that suits you, we also aim to deal with your waste in a way that is responsible. At Skoup we will always aim to recycle as much waste as possible, and that which cannot be recycled will be disposed of in a sensible and environmentally safe way. In the comparison above you can compare all the skip sizes available through our local skip hire service.
What Can Go in a Super Mini, Mini, Midi, or Maxi Skip?
Our skips are designed to be as versatile as possible, and the majority of our skips can be used to get rid of a large amount of waste material. The table above explores what can generally go in our skips, and what may require a different service to dispose of the waste.
Can I Skip It?
Hiring a skip is a fantastic way to get rid of all kinds of bulky furniture or raw materials. You can use one of our skips to get rid of:
Wood
Metal
Dry Mixed Recycling (DMR)
You can more about what
can go in a skip here.
If the item that you want to get rid of is not included in the above, then you may want to consider our
Bag It
or
Van It
service instead.
Cannot Skip It
There are certain items we are not able to accept through our Skip It service. However, we are able to accept certain items below through our Van It service.
Aerosols
Solvents
Asbestos
Chemicals
Clinical Waste
Gas Cylinders
Liquids
Soil or compost
Tyres*
WEEE*
Lithium-ion batteries
Plasterboard
*Accepted through our Van It service.
Do You Know What Skip Size You Want?
If you know what skip you want, you can arrange your local skip hire today by calling us on 03300 535 535 or by clicking on the button below to order online.