If you're having a clear out at home, undertaking a project that makes a lot of mess such as renovating a room, landscaping your garden, or simply having a long over-due clearance, a skip will be handy to have on your doorstep.
Available to order online, our Mini skip will arrive the next day when ordered before midday Monday to Saturday.
Our skips are based at a large number of locations throughout the UK, so that it's always local to you and there when you need it. Once you're done, we'll pick it back up at a time to suit you too – taking the stress out of your next house project or clean up.
Specifically, the Mini skip is recommended for:
General home or office renovations
Large volumes of rubbish (max. 50 bin bags)
Clearing a loft, basement, garden or garage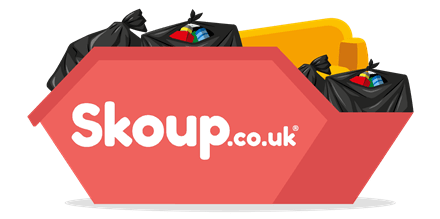 How much stuff can fit in a Mini skip?
Also known as a small builders skip, the Mini skip can hold the equivalent of up to 50 black bin bags.
Here are the Mini skip specifics:
Dimensions:
6 cubic yards
4.6 m3
1.2 (H) 2.6 (L) 1.5 (W)
Max weight:
What exactly can go in a Mini skip?
All our skips are deigned to get rid of awkward furniture and a large range of materials, such as wood, metal, green waste and mixed recycling.
That being said, not everything can go in a skip. Items that can't be put in the skip, include mattresses, tyres, electricals (including TVs and computer screens), batteries, solvents, fuels, cans of paint, gas cylinders and medical waste.
You can read more about what can go in a skip here.
How to prepare for a Mini skip?
Our skips can be delivered as soon as the very next day! You'll just need to help by making sure there is room and clear access when our teams deliver your skip.
Here are a few things to consider before our driver arrives.
Leave enough space to accommodate the skip
Check all roads (including those surrounding your home) are wide enough to fit our skip trucks with no parking obstructions
Our trucks need a minimum 10 metre turning circle
Suitable ground must be available to place the skip to avoid damage
Don't worry! If you're not sure whether our trucks or skips will have enough room, simply contact our customer service team on 03300 535 535, or email us on sales@skoup.co.uk for a quick solution.
Need a bigger skip?
You don't need to be exact when working out how big a skip you need. But an easy way to estimate how big your skips needs to be is based on the amount of black bin bags of rubbish you are likely to fill, or how much bulky furniture you need to fit in it, compared to the dimensions of our Mini skip detailed above.
The maximum weight is also important with all our skips, so be careful not to overfill them. In particular with soil when clearing out your garden or driveway, as the maximum weight might be exceeded.
Not sure whether to go for a bigger skip? If you aren't sure about your skip's capacity, please call the team on 03300 535 535 to find out what your best option is. Or use our handy Skip Comparison Guide.
For more Information:
Next Day Skip Hire Delivery
6 days a week
Whenever you need your skip, we'll make sure it's there. Order by 12 noon to receive next day delivery by one of our helpful and reliable drivers. (Monday - Saturday, excluding bank holidays)
At Skoup we are proud to offer a nationwide service, and we can offer skip hire across the country and in your area. Whether you are in London, as far south as Cornwall, or as far north as Aberdeen - England, Scotland or Wales - we are here to help.
Book Now