Local Skip Hire from Skoup
Do you have a lot of waste that you

want to get rid of?
Choose Skoup for a quick, reliable and cost-effective local skip hire service that is tailored to your needs.
At Skoup, our skip hire service has been designed to help you hire a skip to dispose of your waste, and is ideal for when you need a waste management solution on site for a period of time. When you hire a skip from Skoup, you know that you are sourcing the best answer to your waste removal needs. Hiring a Skoup skip is ideal if the waste you want to get rid of is heavy or if you are doing a clear out, renovation, or other project where getting rid of unwanted rubbish is a must.
Why Hire a Skip from Skoup?
Hiring a skip can be a daunting prospect for those who haven't been through the process before or in a long time! To hire a skip with Skoup you simply tell us where you are, the size of the skip needed and we'll show you a price immediately on screen for a skip that's available in your area and will meet your needs.
From there, you can take it straight to our easy online checkout, where instantly you'll have hired and paid for your skip without any need to look elsewhere. Our Skip It hire service helps take you from your skip hire need to your ideal skip paid for and hired within minutes.
No matter your reason to hire a skip, there are many reasons why you should consider Skoup:
4 different sizes of skip available to hire – super mini, mini, midi, and maxi – depending on your need

Hassle-free online booking process

Great for mixed construction waste

Next Day Delivery available if ordered by 12pm (excl. Sundays and Bank Holidays)
Skip collection on your preferred day
Skip permits available if the skip needs to be placed on Public Highway
Fixed skip hire prices
What does it cost to hire a skip?
When you hire a skip, there are a few elements that can determine the price. Those elements include how long you would like the skip available on your property, if you need help with a permit, and where you are situated within the UK. Our online system makes it easier for you to find the skip you need and receive an obligation-free quote to hire a skip. Once you have a quote, our price is fixed, so you can rest easy knowing there will be no additional costs added at a later date for your skip. You can read more about our skip hire prices and available sizes on our Skip service page.
What can be added into a rubbish skip?
At Skoup, our skip hire service has been designed to be as thorough and inclusive as possible. It is for this reason that we aim to help you with any waste management need you may have, whether you need to get rid of large amounts of green waste or whether you want to get rid of a few pieces of bulky furniture.
Our skip hire service can be used to get rid of bulky furniture, wood, metal, dry mixed recycling and green waste. This makes our skip service incredibly versatile and is perfect for any kind of renovation or removal project in your house or business.
Our Skip It service is not equipped to handle chemicals, asbestos, aerosols, or gas cylinders. To find out more details about what can or can't be placed in one of our skips, you can visit our Can Your Skip It page.
How to hire a skip from Skoup?
At Skoup we want to make it as easy as possible for you to hire a skip and find the solution you need.
1. Choose Your Skip – Type in your postcode to check the available skip services in your area. Choose the waste skip size that suits your needs best, check the skip hire cost and get your no-obligation, free quote. You can choose your skip here.

2. Order Your Skip - Let us know your address and preferred delivery date. Once you have done this, you're all set. If delivering to a Public Highway, we will organise the skip hire permit for you to make sure that you have everything you need in place before the skip arrives.

3. Skip Delivery – We will deliver your skip to you on the requested day. You can even select a morning or afternoon delivery slot depending on what is most convenient for you. If due to unforeseen circumstances the skip is not delivered, we will make sure to deliver it within the next available slot.

4. Loading Your Skip – Fill your skip to the indicated level load. Please make sure no prohibited waste is put in the skip. You can find a list of what cannot go into a skip here to help you.
5. Skip Collection – Once your skip is full, please request your skip pick up by calling us on 03300 535 535. *

*Please note that our skips can be collected a minimum 48 hours after a collection is requested. Our skips can be in use for up to two weeks before collection should be arranged. If a skip is retained for more than 2 weeks, additional charges may apply.
If you are a looking to have waste removed, but you are looking for a more immediate solution than a skip, then did you know that at Skoup we offer a Van It and Bag It services? No matter what it is you are looking to get rid of, at Skoup we are happy to help.
Can I Skip It?
If you are planning a clear out or renovations, Skips are fantastic tools for getting rid of unwanted rubbish, rubble, and waste. When you book your skip through Skoup, you can be assured that our skip hire is the quickest way to get rid of:
Bulky furniture
Wood
Metal
Dry Mixed Recycling (DMR)
Green waste
Our skips come in a variety of different sizes to ensure that they can store whatever it is you want to get rid of. You can find out more information about what can go into a skip here.
If the waste you want to get rid of is not included in our list of materials our skips can be used to remove, then there may be another solution better suited to your needs. At Skoup, as well as skip service, we provide Van It - a Man with a Van, style rubbish and bulky waste removal. We are able to accept a broader range of items and material types through our Van It service. You can have a look at our man-with-a-van service here to see if that's more suitable for your needs.
Cannot Skip It
Our Skip It service does not accept the following items:
Asbestos
Plasterboard
WEEE
Mattress
Tyres
Aerosols
Solvents
Chemicals
Clinical Waste
Gas Cylinders
Liquids
Soil or compost
Lithium ion batteries
Paint tins
If you would like to find out more about what can be placed in a skip and what we are unable to collect with our Skip It service, you can find out more here.
On the rare occasion that what you want to get rid of is on the list above, then the great news is you don't need to be stuck with your waste. At Skoup, we are able to take many of the items listed above through our Van It service. Explore our Van It service here to see if that's more suitable for your needs. You can also contact us on 03300 535 535 if you need assistance choosing the right waste removal service for you.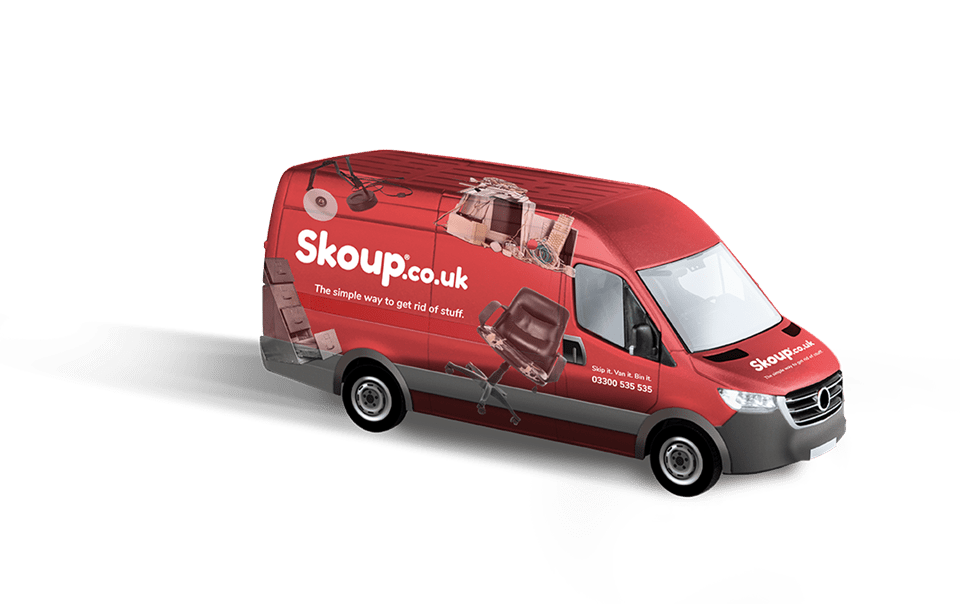 Ready to have your waste collected?
When you need it gone in a hurry, or have items that can't be disposed of in a skip, why not try our Van It service.
Van It
We'll give you a good price – and stick to it

We'll only take away what you ask us to take away

We'll turn up when we say we'll turn up

We're part of Biffa, one of the UK's best known and most trusted brands

We don't charge extra for evenings and weekends

We'll collect from inside or outside your home
Don't take our word for it
Mr Martin Burns

30 Mar 2022

Really quick and easy service to use would recommend and definitely use again!
Rosanna

29 Mar 2022

I was really impressed with how easy it was to book , how quickly they came (next day) and took everything and left it completely tidy (no little bits left behind ) all done without any fuss. I would definitely use them again
JW

17 Mar 2022

Excellent service. Arrived on time, called beforehand. Cleared the rubbish in 10 minutes, very friendly and efficient. Would happily use again.
Helen Roy

28 Mar 2022

Really helpful team from customer service through to the removal guys, easy to book and great communication, the removal men called on plenty of time before arrival. Very quick and professional. Very reasonably priced. Would recommend.
P Honnor

28 Feb 2022

This is the 4th time I've used Skoup as quite simply, the costs are the great and service is excellent. Big thanks to Paul who has collected my rubbish 3 times and always does a great job!
Aravind Srinivasan

11 Mar 2022

Splendid service from Skoup. The gentleman who arrived was very professional and did not fuss about the removal process. Spoke friendly and did above and beyond the call of duty. Will surely recommend your service to friends. Keep doing the good work.
Chris Taylor

02 Mar 2022

Excellent service. The friendly driver kept me informed of when he would be coming and dealt with removing the rubbish and loading the van in very quick time. Will certainly use this service again if we ever need it. Most impressive.
Steven Lake

29 Mar 2022

Excellent service, quick to arrange, professionally & courteously removed.
Same Day Waste Collection
7 days a week
Book before 12 noon and we can pick up your rubbish today. Need an evening or weekend collection? No problem we'll do it for the same price. Book your man with a van today!
Book Now