Do you have a lot of waste that you

want to get rid of? Choose

Skoup

for a quick, reliable and cost-effective

local skip hire

service.
Our skip hire service is ideal if your waste is heavy or when you need to keep your waste on-site for a period of time. So, why hire a skip from Skoup?
3 available sizes

Hassle-free Online Booking Process

Great for mixed construction waste

Next Day Delivery available if ordered by 12pm (excl. Sundays and Bank Holidays)
Skip permits available if the skip needs to be placed on Public Highway
Fixed skip prices
Please read more about our skip hire prices and available sizes on https://www.skoup.co.uk/services/skip. To check what can be put in a skip, please check https://www.skoup.co.uk/can-you-skip-it.
How to hire a skip?
1. Order your skip – Type in your postcode to check the available services in your area. Choose the skip size suits your needs best, check the skip hire cost, let us know your address and preferred delivery date. Once you have done this, you're all set. If delivering to a Public Highway, we will organise the skip hire permit for you.

2. Skip delivery – We will deliver your skip on the requested day. You can even select an AM or PM delivery slot. If due to unforeseen circumstances the skip is not delivered, we will make sure to deliver it within the next available slot.

3. Loading your skip – Fill your skip to the indicated level load. Please make sure no prohibited waste is put in the skip, you can find a list of what cannot go into a skip here.

4. Skip collection – Once your skip is full, please request a pick up by calling us on 03300 535 535. *

*Please note that our skips can be collected a minimum 48 hours after a collection is requested. Our skips can be in use for up to four weeks before collection should be arranged. If a skip is retained for more than 4 weeks, additional charges may apply.

If the skip is not what you are looking for, please check our other services on https://www.skoup.co.uk/.
Can I Skip It?
Booking a skip is the quickest way to get rid of:
Bulky furniture
Wood
Metal
Dry Mixed Recycling (DMR)
Green waste
Cannot Skip It
Our Skip It service does not accept the following items:
Aerosols
Solvents
Asbestos
Chemicals
Clinical Waste
Gas Cylinders
Liquids
Soil or compost
Tyres
WEEE
Mattress
Lithium ion batteries
Plasterboard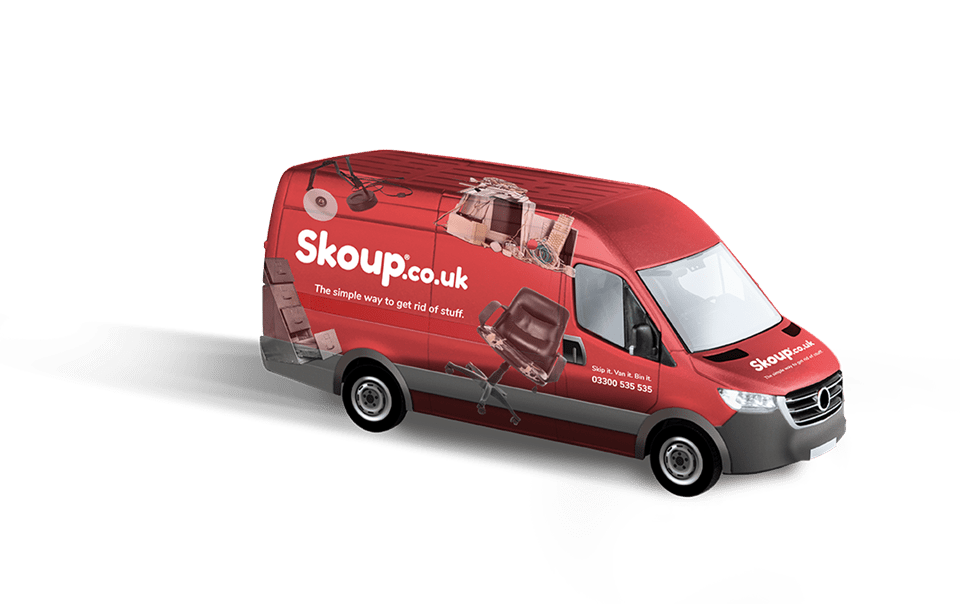 Ready to have your waste collected?
When you need it gone in a hurry, or have items that can't be disposed of in a skip, why not try our Van It service.
Van It
We'll give you a good price – and stick to it

We'll only take away what you ask us to take away

We'll turn up when we say we'll turn up

We're part of Biffa, one of the UK's best known and most trusted brands

We don't charge extra for evenings and weekends

We'll collect from inside or outside your home
Don't take our word for it
Jeff Coulthard

30 May 2020

Fantastic service, quick easy, efficient. Steve had the job done in 20 minutes. The easiest way to deal with excess household rubbish. Simple to book, good value, would highly recommend
Clare Delacruz

29 May 2020

Quick and hassle free service! Lewis arrived within hours of booking a van and made light work of clearing out our garden shed. Would definitely recommend using this company. Thank you Lewis!
Josie Baker

26 May 2020

Skoup offer a brilliant service; I found their website clear and easy to navigate, they kept me updated at every step of the process and they got rid of all my unwanted rubbish saving me hours of sorting and queuing at the local tip! Lewis, who collected the rubbish, was really helpful and called to say when he would arrive and then let me know when he had loaded it all in the van. I would definitely use Skoup again and highly recommend them.
Kevin Barrett

11 May 2020

The driver Lewis was very friendly and helpful, rang to let us know he would be here in 20 minutes, which he was, everything removed and taken away. Would definitely recommend Skoup, and use them again.
Mettelise Lloyd

07 May 2020

This is the second time we have used Skoup to clear away the debris from our DIY efforts; wardrobe components and carpeting cuts. On both occasions we were told when the van would arrive and on both occasions our stuff was cleared away by a very pleasant and efficient person.
Emma Laverick

07 May 2020

Fabulous service from start to finish. The man that came to collect the rubbish was polite professional and really went the extra mile and did a very thorough job. Would definitely recommend using this service.
Rebecca

05 May 2020

Had some waste that needing removing after we had our new kitchen fitted. Removal chap gave us a courtesy phone call to say he was near, was upbeat, positive and pro-active even though removing our load wasn't straight forward. Really nice guy, got the job done and polite, courteous and professional during these COVID times. Would definitely recommend.
Joe

20 Apr 2020

Excellent service!We booked our collection on a Sunday afternoon and were able to get a slot for the very next day. The nice chap arrived at around 8am, packed up our rubbish carefully and left the area tidy. Perfect service!
Lewis

16 Apr 2020

Amazing Service - Quick and easy. Skoup had this collected and in the "Half Van" service within 3 minutes of arrival! Very friendly guys. With a child on the way this was a massive relieve, I'd give them more stars if it were possible! Definately will use again in the future if I need a similar service.
Emma Steele

15 Apr 2020

Brilliant service! Even in lockdown it is so professional. I only booked 4 days ago and now all the rubbish is cleared. So easy & cheaper than the smallest of skips. The van was huge and could have taken a lot more. Thank you to the lovely team who are working from home. I'll definitely be using the service again.
Same Day Collection
7 days a week
Book before 12 noon and we can pick up your stuff today. Need an evening or weekend collection? No problem we'll do it for the same price.
Book Now