Do you have a lot of waste that you

want to get rid of? Choose

Skoup

for a quick, reliable and cost-effective

local skip hire service.
Our skip hire service is ideal if your waste is heavy or when you need to keep your waste on-site for a period of time. So, why hire a skip from Skoup?
Hassle-free Online Booking Process

Great for mixed construction waste

Next Day Delivery available if ordered by 12pm (excl. Sundays and Bank Holidays)
Skip permits available if the skip needs to be placed on Public Highway
Fixed skip prices
Please read more about our skip hire prices and available sizes on https://www.skoup.co.uk/services/skip. To check what can be put in a skip, please check https://www.skoup.co.uk/can-you-skip-it.
How to hire a skip?
1. Order your skip – Type in your postcode to check the available services in your area. Choose the skip size suits your needs best, check the skip hire cost, let us know your address and preferred delivery date. Once you have done this, you're all set. If delivering to a Public Highway, we will organise the skip hire permit for you.

2. Skip delivery – We will deliver your skip on the requested day. You can even select an AM or PM delivery slot. If due to unforeseen circumstances the skip is not delivered, we will make sure to deliver it within the next available slot.

3. Loading your skip – Fill your skip to the indicated level load. Please make sure no prohibited waste is put in the skip, you can find a list of what cannot go into a skip here.

4. Skip collection – Once your skip is full, please request a pick up by calling us on 03300 535 535. *

*Please note that our skips can be collected a minimum 48 hours after a collection is requested. Our skips can be in use for up to four weeks before collection should be arranged. If a skip is retained for more than 4 weeks, additional charges may apply.

If the skip is not what you are looking for, please check our other services on https://www.skoup.co.uk/.
Can I Skip It?
Booking a skip is the quickest way to get rid of:
Bulky furniture
Wood
Metal
Dry Mixed Recycling (DMR)
Green waste
Read more about what can go in a skip here.
Cannot Skip It
Our Skip It service does not accept the following items:
Aerosols
Solvents
Asbestos
Chemicals
Clinical Waste
Gas Cylinders
Liquids
Soil or compost
Tyres
WEEE
Mattress
Lithium ion batteries
Plasterboard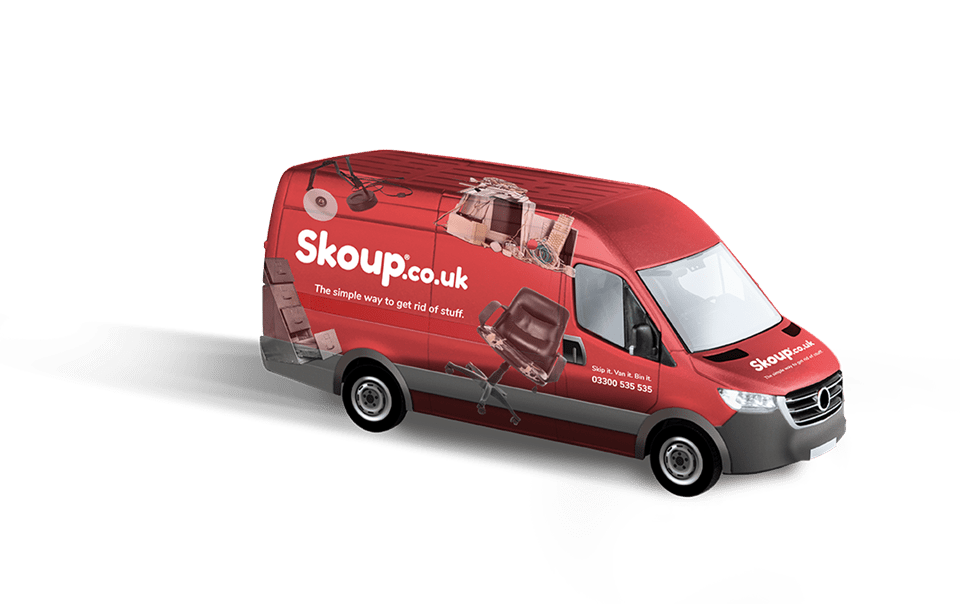 Ready to have your waste collected?
When you need it gone in a hurry, or have items that can't be disposed of in a skip, why not try our Van It service.
Van It
We'll give you a good price – and stick to it

We'll only take away what you ask us to take away

We'll turn up when we say we'll turn up

We're part of Biffa, one of the UK's best known and most trusted brands

We don't charge extra for evenings and weekends

We'll collect from inside or outside your home
Don't take our word for it
Oliver Cadore

22 Aug 2020

I am incredibly pleased with the service, the waste disposal professional turned up on time and was very friendly. In addition, the service provided is value for money.
Jeff Botterill

21 Aug 2020

Awesome job. A local & 2 other National companies quoted too high. Skoup made it easy to understand with their pricing and it was much cheaper. I was in the house but neither the dogs, kids or me heard them arrive, got an email from Skoup saying job done, took a look outside and all the rubbish was gone, every last piece. They are my first port of call now.
Alison Berry

21 Aug 2020

Absolutely amazing service, came when they said they would, took everything and left everything tidy. Can't recommend highly enough. So quick and efficient, would give 6 stars if I could!!
Joe McCarthy

13 Aug 2020

Great service for a good price. The collection was quick and simple to book, using the Skoup website. Ron, who collected our rubbish was helpful and friendly. He cleared the waste quickly, whilst being considerate of our property. I'd recommend this service to anyone.
Carol F

13 Aug 2020

It took me a good few days to collect together the items I wanted to get rid of, but it took Luke just half an hour to get it all into the van and leave everything clear and clean. Thank you very much Luke, would definitely call on Skoup again.
Ed Smythe

11 Aug 2020

Mitchell from Skoup was absolutely fantastic, and took the time to keep us informed as to when he would be arriving so we weren't kept waiting. The van was loaded extremely quickly and without any fuss, despite the hot weather. The area we were storing the waste was left tidy and clear. Will definitely be using again and will be actively recommending to others. Thanks!
Ibrahim Yahia

07 Aug 2020

I run a residential home home for mental health and we received a brilliant service from Skoup who picked up some excess rubbish and building debris from the property, Lewis was very quick, well mannered and easy to talk to, making the job go very easy.
Sarah D

28 Jul 2020

Easy to organise and book a slot for collection of the rubbish I had, I needed to change the date and this was also handled very smoothly by the lady I spoke to on the phone. On the day of the collection the van arrived as expected, the man who was dealing with the collection was extremely polite and loaded up the van very swiftly. All-in-all I couldn't be more impressed with the service. Would recommend and use again if I needed to.
Same Day Collection
7 days a week
Book before 12 noon and we can pick up your stuff today. Need an evening or weekend collection? No problem we'll do it for the same price.
Book Now